Jan 8 2009
A much bela­ted part 2 of time spent in the West End and other fun pla­ces, I think I was meant to post this around Decem­ber 20th, looks like that didn't hap­pen. I roun­ded off the last post with a trip to see Zorro.
Next stop Alan Ayckbourn's trio of plays "Living Together", "Table Man­ners" and "Round and Round the Gar­den" (seen in that order) as part of "The Nor­man Con­quests" in the round at the Old Vic — a thea­tre trans­for­med for a 360 degree vie­wing expe­rience. Being under 25 offers us the nice little perk of much dis­coun­ted tic­kets, £20 for each play ins­tead of £40–60, or the­rea­bouts, a bar­gain. The six strong cast con­sis­ted of Ame­lia Bull­more, Jes­sica Hynes, Stephen Man­gan, Ben Miles, Paul Rit­ter and Amanda Root.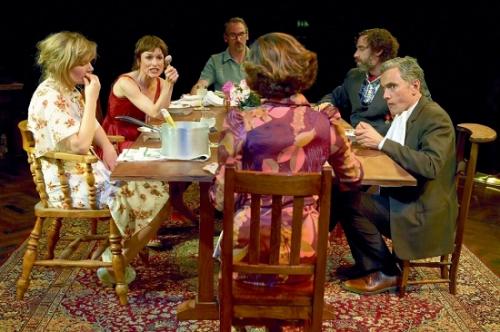 Going into "Living Together", Sam, Jo and I weren't sure what to expect, our seats were at the rear of the audi­to­rium, where the stage would nor­mally sit, but ins­tead a cir­cu­lar tier of seats stood, car­ved into the back. We were inc­re­dibly close to the cir­cu­lar stage with its 'model village come woo­den cur­tain' and light fur­ni­ture set. The three plays inter­min­gle in time, each can stan­da­lone but together they form a big­ger pic­ture, por­tra­ying dif­fe­rent nuan­ces and natu­res of the cha­rac­ters whilst each inc­re­dibly reveals a sig­ni­fi­cant plot point subtly but rea­lis­ti­cally refe­ren­ced in the other two. (Reg wan­de­ring into the front room, "Ah there it is", picks up the bin and walks out again).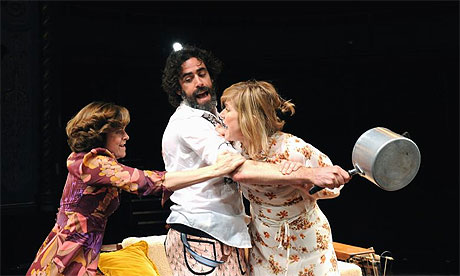 The sto­ries are deeply tra­gic; three siblings, two unhap­pily married and the other sin­gle yet equally unhappy. The other three cast mem­bers make up their spouses/possible future part­ners whilst a sick and elderly mother and her pro­mis­cuous past resi­des out of sight, ups­tairs and bedrid­den. Nor­man is all set to run away for a roman­tic wee­kend with his wife's sis­ter Annie, Annie's poten­tial love inte­rest — Tom, the dim wit­ted Vet, belie­ves she is going on holi­day alone and that this is partly his fault; Annie's brother Reg and inter­fe­ring wife Sarah arrive to look after mother for the wee­kend, in Annie's absence. Norman's wife Ruth remains una­wa­res, but isn't without sus­pi­cion. Cue the start of all three plays and without wishing to reveal too much; the home made pars­nip wine, Reg's cle­verly devi­sed board game he wants ever­yone to play, Norman's desire to make ever­yone happy, Tom's com­plete befudd­le­ment, the rug, the silence at Break­fast, soup and salad, sea­ting arran­ge­ments, Ruth's misin­ter­pre­ted advice in the gar­den, the cat stuck in the tree, the tom­foo­lery and East Grins­ted — and as the family tears itself apart you'll laugh with every turn, every reve­la­tion, every remark and your jaw will ache from the smile plas­te­red across your face.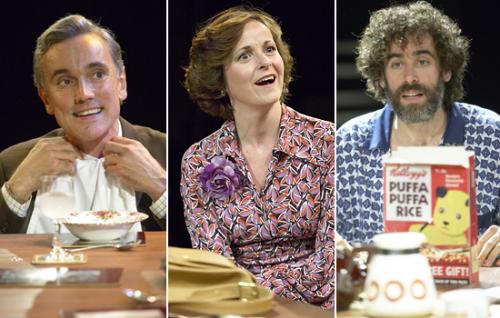 For Table Man­ners and Round and Round the Gar­den we were sea­ted at the top in the middle, a little further from the action but still a great view. Ori­gi­nally we'd deci­ded to only go to one of the three, but on the strength of Living Together — which we now believe was the best star­ting place — we boo­ked the next two. If I had to put them in order of favou­ri­tes I'd put the Gar­den epi­sode first, clo­sely follo­wed by Living Together and then Table Manners.
Our taste for plays, come­dies, Ayck­bourn and the Old Vic have been sti­mu­la­ted and we're ready for more.
Here's the best shot I could get of the cir­cu­lar stage from where we were: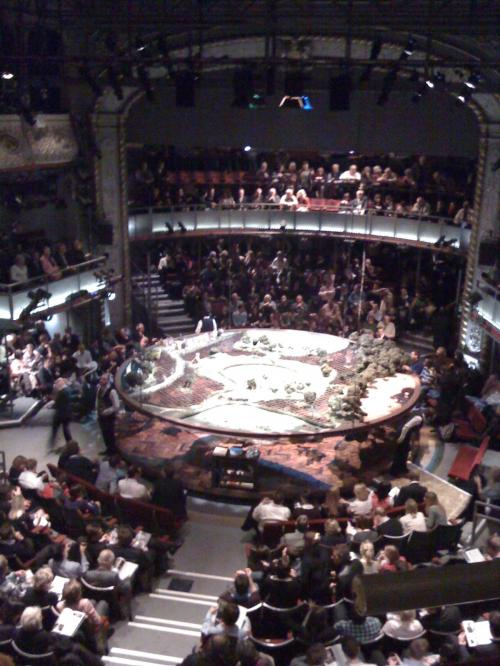 Before the shows we ate at the Ban­ga­lore Express (with its dou­ble dec­ker sea­ting arran­ge­ment) and Yo Sushi (where we used our buy 5 pla­tes get 5 free vouchers), both of which are in wal­king dis­tance from the Old Vic.
Follo­wing the Gar­den, which we saw on a Satur­day after­noon in Decem­ber, we grab­bed the tube to Hyde Park to visit the Win­ter Won­der­land with all of its Christ­mas­time goo­dies and German-like mar­kets. War­ming up with a tasty steak bur­ger we aim­lessly peru­sed the stalls, trying out the mulled wine, the can­died nuts, mini dutch pan­ca­kes in cho­co­late, fun hats and Ger­man sau­sa­ges. Without rea­li­sing it had reached 9pm we mean­de­red towards Covent Gar­den before res­ting at "Fire and Stone", a fan­tas­tic stone-oven piz­ze­ria where every pizza is based on a world city, I had a:
Marra­kech // £8.95
Cumin spi­ced ground lamb, moz­za­re­lla, mint yoghurt sauce, green oli­ves, rai­sins & sli­ced red onion drizz­led with chi­lli oil.

Worth every penny.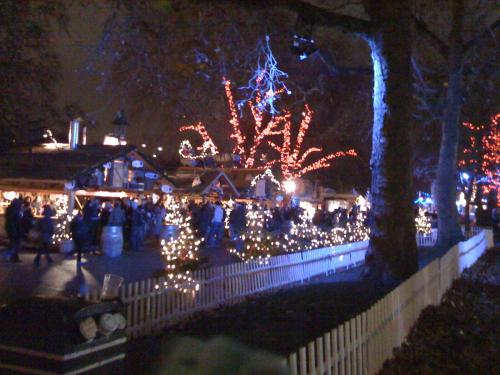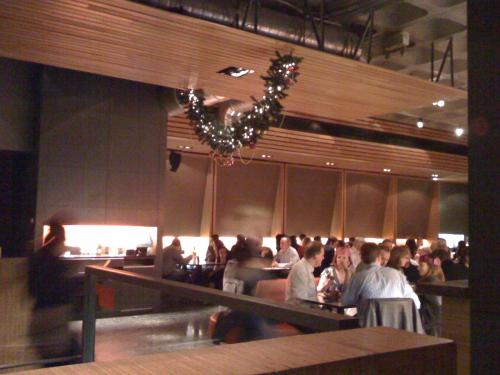 The Ballet
The next big ven­ture into Lon­don for Sam and I was to the Coli­seum to see the English Natio­nal Ballet per­for­ming Slee­ping Beauty; my first foray into the world of ballet and dance. Approaching the night slee­pi­fied and docile, I wasn't loo­king for­ward to the three hour per­for­mance des­pite pep­ping up with a home-made bur­ger from a nearby Moroc­can place off Lei­ces­ter Square.
Howe­ver, when the cur­tain lif­ted, the surrea­lism of a 3 hour show without a sin­gle spo­ken word, not even for the inter­val, slowly daw­ned on me, and with it I became quietly engros­sed in the beau­ti­ful dance and skill before me, the miming tech­ni­ques used for the plot mostly going over my head but for a few obvious exam­ples. My slum­ber had me all but­te­red up and I left amongst the extraor­di­na­rily posh and the dis­pro­por­tio­nate num­ber of rich attrac­tive girls into the cold win­ter air, with scarf and glo­ves, ready for Christmas.